Health Insurance
Massage can be an extremely beneficial therapy to ease physical pain, to manage emotional stress, and to nurture oneself through difficult times. More recently, employers have begun to include therapeutic massage in the benefits package offered to their employees. Employers have come to realize that employees who frequently receive massage have fewer on-the-job injuries, less sick leave time, enjoy their jobs and life more, and create a more positive work environment. Indeed, massage is a basic form of healthcare.
The following employers include massage in their benefits package:

City of Eugene
Lane Community College
LTD
Bethel School District
EPUD
State of Oregon
Golden Temple
Harmony Massage is an in-network contracted provider with the following medical insurance companies: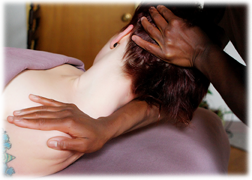 ODS
OEA Choice Trust
PacificSource
Blue Cross/Blue Shield
Aetna
There may be other HMOs & health insurance policies that will pay for massage therapy. It would be good to check your policy or talk with your employer's human resources officer.
We are happy to bill your health insurance company for your massage. Please bring your health insurance card into our office for your first visit, and we will submit all the paperwork for each visit. Generally, co-pays for each massage session are $15-20.
Click here for more information about car accident insurance.