Insurance Billing
Motor Vehicle Accident Insurance
Therapeutic massage has been shown to be highly effective in reducing the shock and trauma following a motor vehicle accident (MVA). Massage can be an extremely beneficial therapy to ease physical pain, to manage emotional stress, and to nurture oneself through the difficult times following a car accident. Indeed, massage is a basic form of healthcare.
Massage can be extremely effective in reducing pain after a motor vehicle accident, and in preventing life-long pain from unresolved injuries.
Massage is an effective therapy in treating the following auto accident related injuries:
Whiplash
Headache
Painful neck, shoulders, back
Muscle spasm
Low back pain
Sciatica
Shooting pain, numbness, tingling in neck, arms, back

Pain and stiffness in muscles and joints
Prevents scar tissue from forming
Prevents edema and swelling in tissues
Shorter recovery time
Improved movement of blood and lymph fluids to heal tissues
For those recently involved in a motor vehicle accident, Harmony Massage will accept Oregon PIP - Personal Injury Protection – from all car insurance companies including:
Allied
Allstate
AIG
American Family
Ameriprise
Country
Farmers
Geico
Grange
LeDoux

Liberty Mutual
MetLife
Mutual
Nationwide
Oregon Mutual
Progressive
Safeco
Selco
State Farm
Unitrin
This is not a complete list. Contact Harmony Massage or call your car insurance company to determine your eligibility for massage following a motor vehicle accident.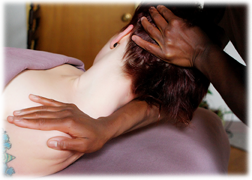 A prescription is required from a medical doctor, chiropractor, or nurse practitioner before starting treatment for therapeutic massage. Please contact us if you need assistance getting a prescription for massage.
We are happy to bill your car insurance company for your massage. Please bring your claim information into our office for your first visit, and we will submit all the necessary paperwork for each visit.